MyMedicalRewards
Dynamic HRA Funding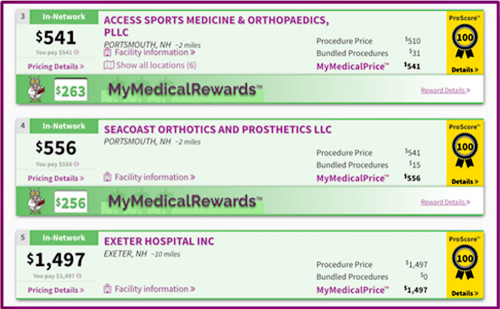 Drives consumer behavior, even when employees are spending HRA dollars
Combines reference pricng with MMS Shopping to reduce costs
Why MyMedicalRewards?
Health reimbursement arrangements (HRAs) have become popular tools for employers to reduce premium costs while still covering employee deductible expenses to some extent. Unfortunately, this strategy is only a short-term fix to a deeper systemic problem: health insurance premiums will continue to rise as long as the underlying medical claims continue to increase in cost. MyMedicalRewards creates an incentive system that tackles these rising costs head-on, by rewarding employees when they make an effort to shop responsibly for their medical care, even when they're spending their employers' money from an HRA.
What is MyMedicalRewards?
MyMedicalRewards (MMR) is a proprietary program that drives consumer behavior among employees, even when they are spending HRA dollars! MyMedicalRewards leverages the intuitive shopping experience of the MyMedicalShopper website and mobile apps in combination with customizable reference pricing to create a simpleto- use incentive program. Employees can earn rewards for choosing low-cost providers of medical care, which are seamlessly communicated to your company's TPA as a contribution to an employee account, such as an HRA.
MyMedicalRewards is a fully integrated product in the MyMedicalShopper ecosystem, so it works seamlessly with the MyMedicalShopper healthcare comparison shopping platform, ClaimsFlow™, and the complete MMS Analytics Suite, including the Employer Dashboard.
How does MyMedicalRewards work?
Very simply!

1. Employees shop for their medical care on MyMedicalShopper
2. Employees receive their medical care at a qualified low-cost provider
3. MyMedicalShopper retrieves employees' EOBs, and then verifies the reward earned and issues it to employees
How does an employer group get set up with MyMedicalRewards?
MyMedicalRewards is an add-on to the MyMedicalShopper comparison shopping platform, so it can only be sold alongside that product (as opposed to standalone). Upon submission of a Service Order that includes MyMedicalRewards, we need to receive a MyMedicalRewards Setup Form for the employer group, which will provide us with necessary program configuration details.
Employers can configure two main settings at the outset of their annual MMR
program launch with the simple turn of a dial:
The Reference Price Benchmark – The reference price benchmark sets the upper limit of what is considered a "reasonable price" for each procedure. By choosing care at a provider that costs less than this price (which is computed uniquely for every procedure), employees have the opportunity to earn a "MyMedicalReward." The reference price can be set to any percentile between 25 and 75 (in 5% increments), with a value of 50 setting the reference price at the 50th percentile, or median price. In other words, choosing a reference price benchmark of 50 means that exactly 50% of care for a given procedure is delivered at a price equal to or less than the reference price. Meanwhile, a benchmark of 25 means that 25% of care is delivered at a price equal to or less than the reference price, while a benchmark of 75 means that 75% of care is delivered at a price equal to or less than the reference price. A higher reference price benchmark will result in more frequent reward opportunities for employees, while a lower reference price benchmark will result in fewer reward opportunities.


The "Savings" Share – The "savings" share percentage determines the proportion of the "savings" versus the reference price that the employer passes on to the employee in the form of a MyMedicalReward. The percent of "savings" share can be set between 5% and 100% in 5% increments. A value of 50% will result in half of the difference between the reference price and the chosen provider's MyMedicalPrice being issued as a reward (which is then typically added as additional funding to the employee's HRA balance, but may vary based on your plan design). A higher "savings" share percentage means that employees will earn relatively larger rewards for their shopping behavior. Please note that MyMedicalRewards are not shown when smaller than $5.
At MMS Analytics Inc., we believe that we are the last, best hope for true price transparency in American healthcare. We're aggregating and analyzing one of the largest medical claims datasets in the world in order to cast a light on the secretive world of healthcare pricing and empower consumers to make informed decisions about their care based on price, quality, and convenience.